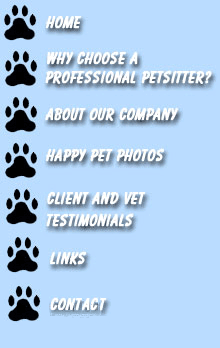 Thank you for visiting our website! We are Joy Conlin and Billy Brickle. We are the owners of Above & Beyond Pet Sitting, Inc. We have known each other for 15 years. We have always been very close friends with our biggest bond being our love and respect for animals. The idea to start a business occurred after one of our many trips to the local dog show.
We began in 1998 with a love for pets and a belief that they are happier at home. The first thing we did was take a course through the Red Cross for Pet First Aid and CPR. In the following years, we have learned a great deal from our clients and their pets about animal care and behavior. We are experienced in administering medication and injections.
After three years in business, we decided it was time for one of us to become a full-time Professional Pet Sitter. Joy then left her job as an insurance agent. Currently, Joy is our full-time sitter and Billy is part-time. We have several who help us on a part-time basis. They are all family or other Professional Sitters that are in our local network. You will always be notified if someone else will be caring for your pets.
We are members of Pet Sitters International. This is an International Organization which is dedicated to the industry of pet sitting. We are also members of Foothills Professional Pet Care Association. This is a network of local Professional sitters who uphold the standards of PSI. It is through this organization that we are members of the Greenville Chamber of Commerce.
Rates are based on your location, the number of visits per day and the number of pets owned. Most owners with a large number of pets find that we are less expensive than a kennel. We pride ourselves in providing a Professional and Caring service for a reasonable fee. Our goal is to have you tell your friends about us.