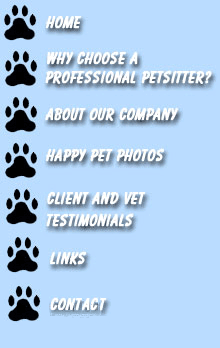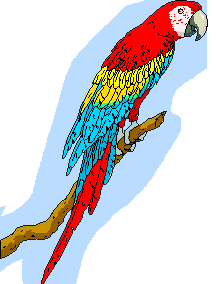 * Peace of Mind. You will know that your pets and home are receiving the best of care available for them.

* Convenience for you. After the initial meeting, booking our service is only a phone call away. We are available for a daily visit while you are at work, for a weekend trip, for emergencies, or for extended business trips and vacations.

* Less Stress for your pets. They no longer have to be transported to the kennel or leave the comfort of their own home. They will not be in contact with other pets. This reduces the risk of your pet getting diseases from others.

* Routine stays the same. We will keep your pets on a regular routine that is close to their daily schedule in regards to feeding, walks, and playtime.

* Home is the best place for your pets. They are happier when they are in their own home, eat their own food, and are surrounded by the familiar smells and sounds of home.

* Safety for your pets and home. Your home and pets are safer with a Professional Pet Sitter visiting them on a regular schedule. You home will have that "lived in" look while you are away. We will bring in the mail, change lights, and water plants for you.

* Qualified to care for your pets and home by adhering to the standards set by our Professional Organizations. This also includes being able to administer medications and injections.

* Experience is the best teacher. All of the questions we ask and requests that we make are based on years of caring for pets.

* Backup Sitters are available. In case of emergency, we have other sitters who will insure that the care for your pets and home will continue without interruption.

* Extra T L C for your pets. This is the most important part of our service! Your pets will receive individual attention at every visit we make to your home.